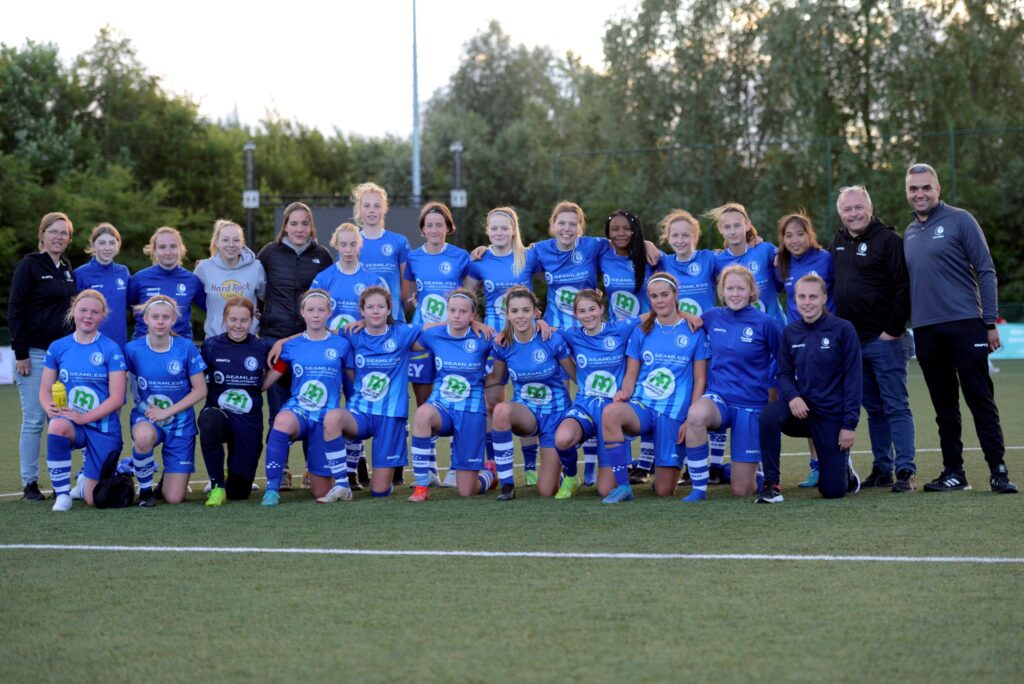 After their Drongen peers of the provincial team (yesterday against the U14 of KAA Gent), the regional U15 of KVE Drongen also got a nice boost after a long season. As the final piece of day 1 of the KDB Cup, they took to the field against... the U16 KAA Gent Ladies. A special 'intersexual' encounter.
Both teams were clearly eager to shine at the youth tournament of their idol Kevin De Bruyne. KVE Drongen had 31 players, the KAA Gent Ladies decided to give 21 girls playing time. Under a bright sunshine the kick-off was given at 7.15 pm in front of a well-filled grandstand, where many family members but also the numerous supporters clearly made themselves heard.
After 4 x 20 minutes it was a forfeit score for KVE Drongen, which saw its flying start crowned with a quick lead against the youngest players of the KAA Gent Ladies. It was equally striking that both teams played technically well-crafted combination soccer.
KVE Drongen coach Yannick Deraedt was therefore a satisfied man afterwards. This nice result is a nice way to end a wonderful season', he said. Together with Andy Passchyn we succeeded in making the players better not only individually but also collectively. The fact that we again had more than thirty boys here was confirmation of the large attendance at our training sessions and the eagerness of our young footballers to learn. Next year, when we switch to inter-provincial soccer, they will again face beautiful challenges.'